2023-2024 Heller Center Fellows
---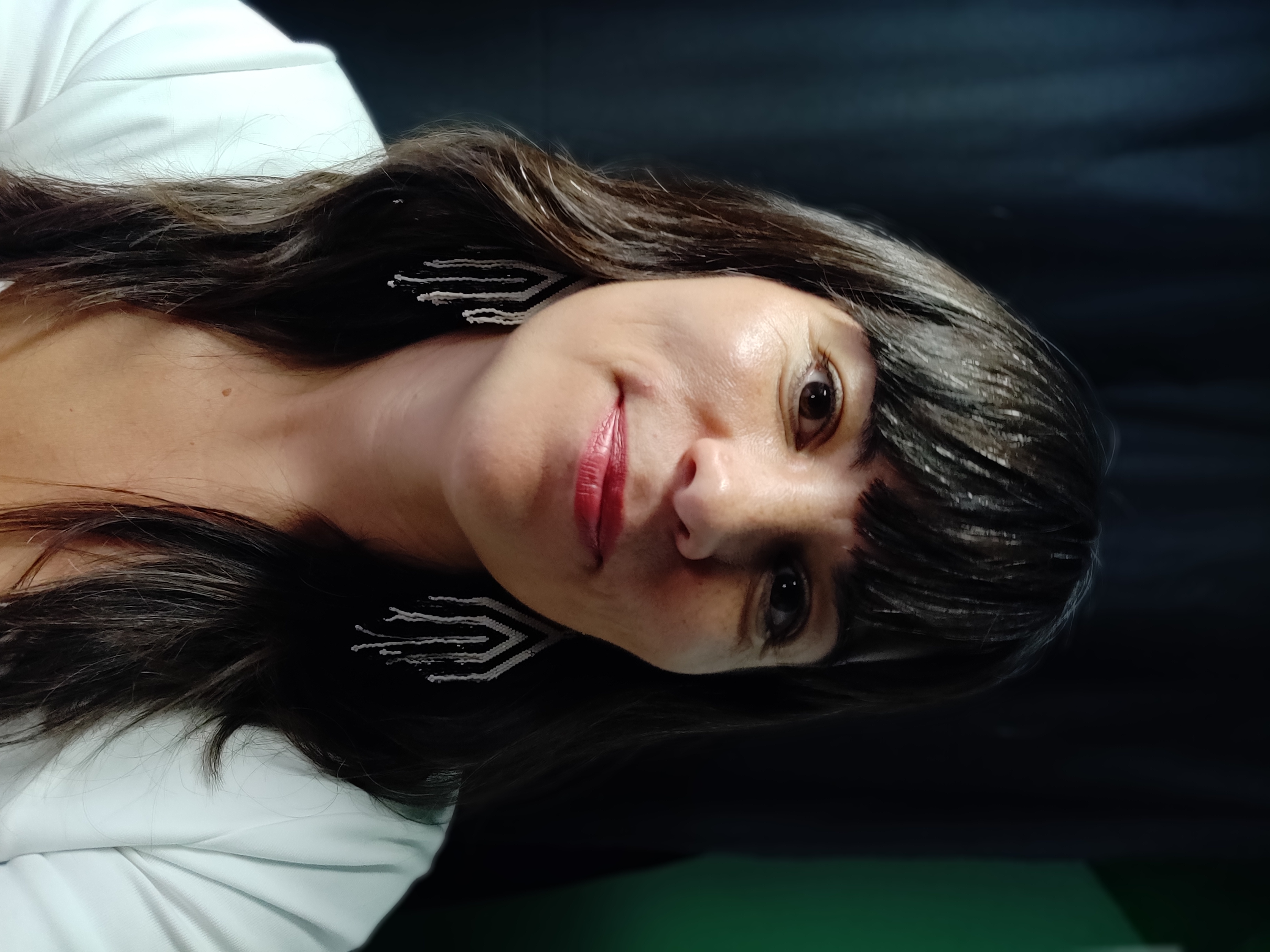 Thursday, September 21* 7pm
Maria Luisa Tucker
Journalist, Podcaster, and Artist
Sound, Story and Imagination: A Narrative Podcasting Workshop
Maria Luisa Tucker is an award-winning journalist and podcast producer. She produced the critically acclaimed podcast Death of an Artist (Sony/Pushkin), which explored the artworld's reaction to the 1985 death of Cuban artist Ana Mendieta, and accusations that sculptor Carl Andre killed her. The show made seven  "best of 2022" lists and was nominated for two podcasting awards. Tucker also created Three Million Acres (Audible), the story of the hunt for her missing father and an exploration of what it means to be a family, and was a producer for The Line (Apple Original/Jigsaw Productions), a podcast about the biggest war crimes trial in a generation, which won a 2022 duPont-Columbia Award. She holds an M.A. in American Studies from Columbia University and a B.A. in Print Journalism from Texas State University.
*This 2-hour workshop will teach the building blocks of a narrative podcast. Participants should come with at least a seed of an idea for a podcast they would like to make, and a laptop or notebook. By the end of the workshop, participants will have written a plan that includes a description of their podcast idea, a plan for researching and gathering several different kinds of audio, and a sound design concept. 
*Co-sponsored with the Department of English 
---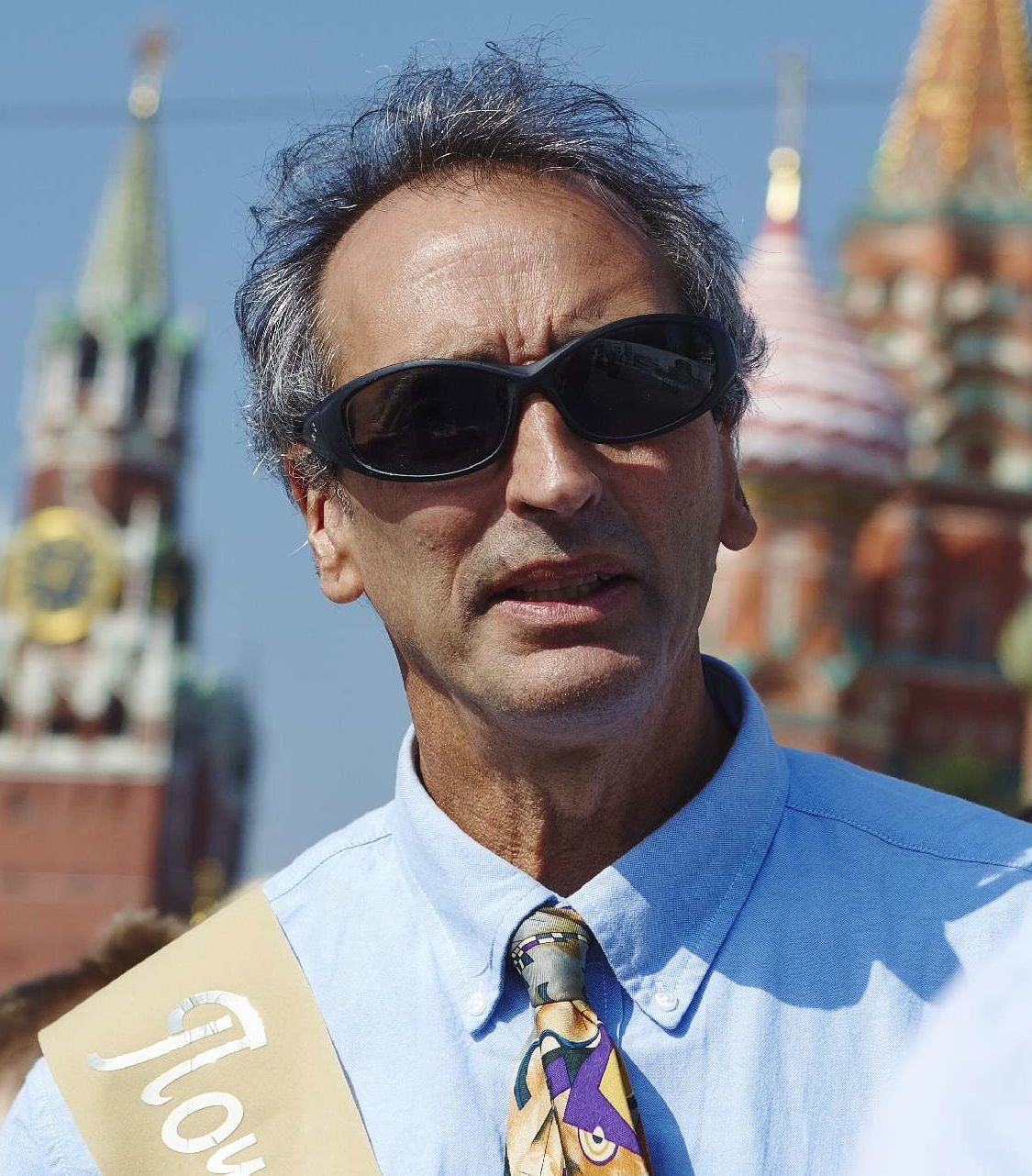 Thursday, March 7, 2024 * 7pm
Dr. Paul Josephson 
Professor
Colby College in Waterville, Maine
A Journey Through Nuclear Landscapes of the US West
The Rocky's majestic landscapes obscure its nuclear legacy. Just ninety miles from UCCS, the Rocky Flats Plant manufactured nuclear weapons parts; at least two major plutonium fires pumped radiation in the environment, much of it drifting in the direction of Denver. To the south and southwest, in Colorado and New Mexico, poorly regulated uranium mining fed the bomb-making and reactor enterprises, exposed Navaho workers to excessive radiation and spread radioactive particles into the surroundings where animals picked up plutonium or carried it around in their fur and feathers. Hundreds of such Colorado migratory and resident wildlife species as prairie falcons, deer, elk, coyotes, songbirds, and the Preble's meadow jumping mouse passed through Rocky Flats and uranium mines and other facilities without any attention to human borders and fences. This talk will explore the shaping of the Nuclear West by the Cold War and the impact of national security desiderata on the environment. 
Paul Josephson is professor emeritus at Colby College in Waterville, Maine. He is a specialist on big science and technology in the twentieth century. The author of fourteen books, he has received a number of awards and grants, including from the National Science Foundation that funded his ongoing project for a Global Nuclear Environmental History. Josephson, a historian of technology and environmental history, is interested in the relationship between state power, various publics and environmental concerns. He has conducted field research in Russia, Ukraine, Northern Europe, Eastern Europe, Brazil and the United States. His interest in nuclear power dates to Cold War air raid drills in elementary school, his Red Atom (1999, re-published 2005), and his deep concerns about the ongoing assault of nuclear power stations in Ukraine by Russia.  
*Co-sponsored with Geography and Environmental Studies and the History Department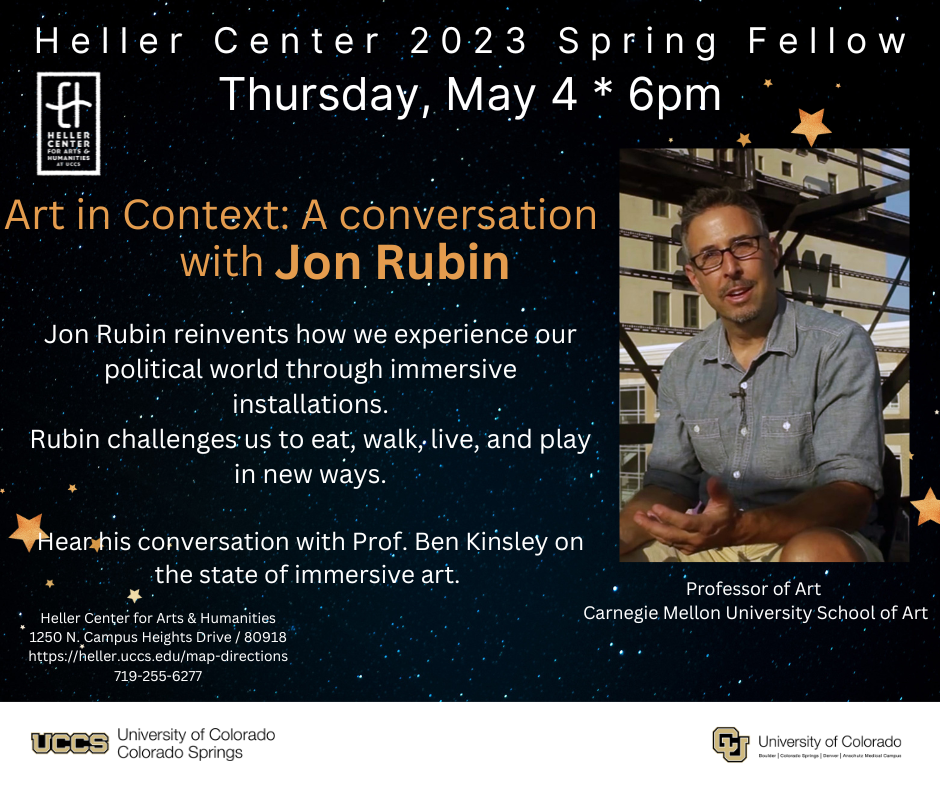 Art in Context: A conversation with Jon Rubin
Jon Rubin
Professor of Art
Carnegie Mellon University School of Art
Spring 2023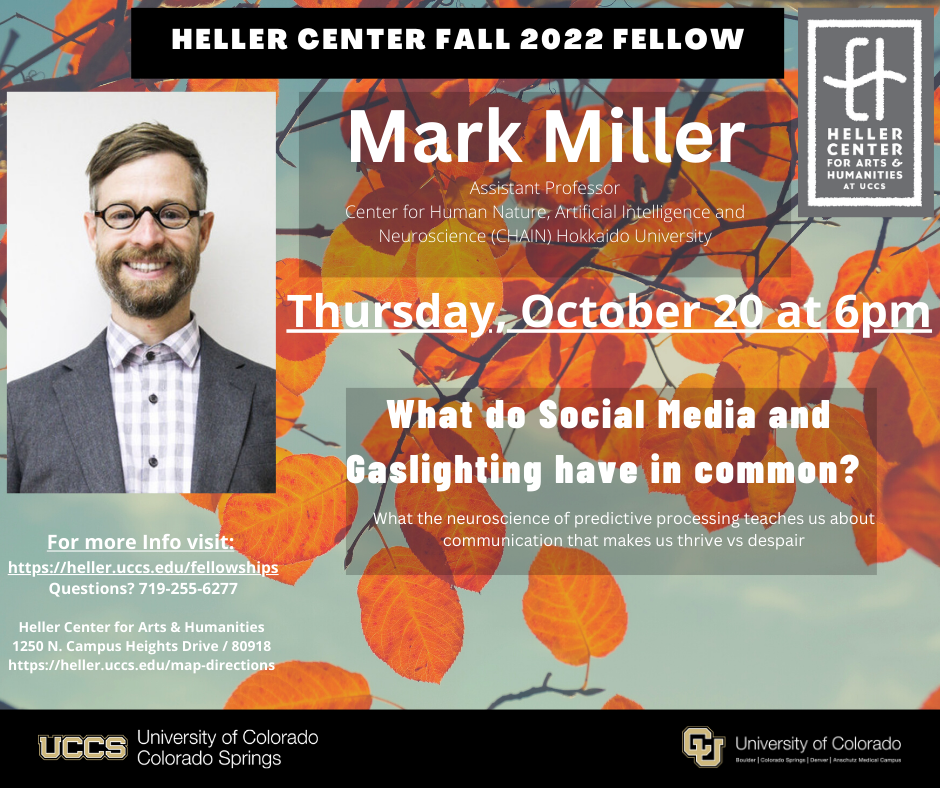 What do social media and gaslighting have in common?
Dr. Mark Miller
Assistant Professor
Center for Human Nature, Artificial Intelligence and Neuroscience (CHAIN) Hokkaido University
Fall 2022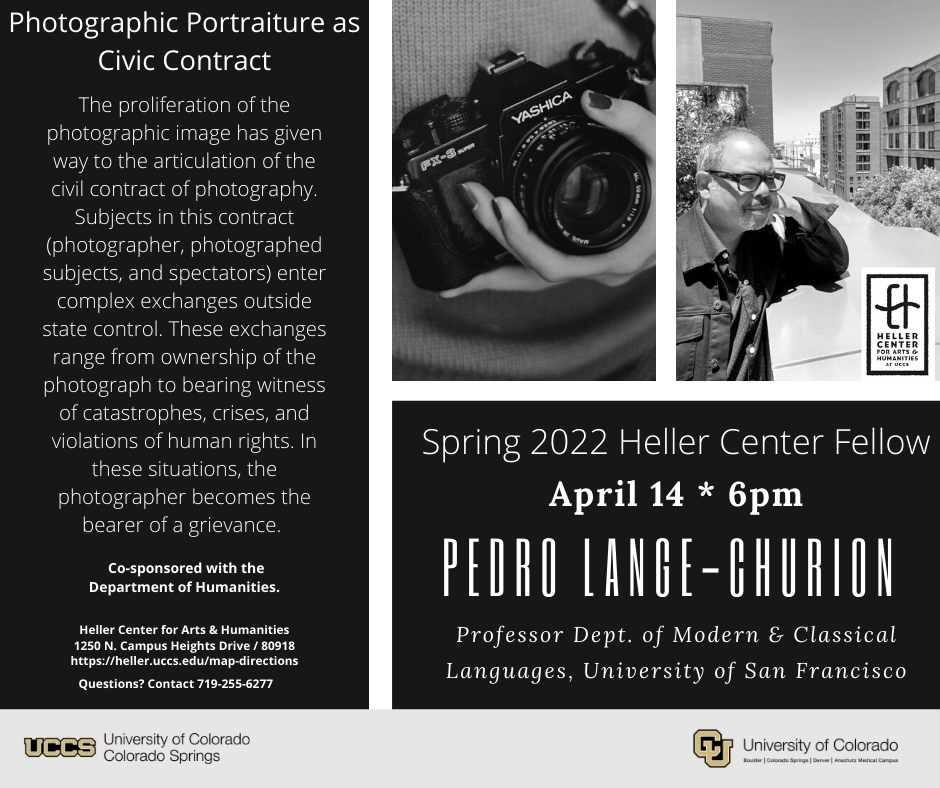 Photographic Portraiture as Civic Contract
Pedro Lange-Churiόn
Professor, Department of Modern and Classical Languages
University of San Francisco
Co-sponsored with Dept. of Humanities
Spring 2022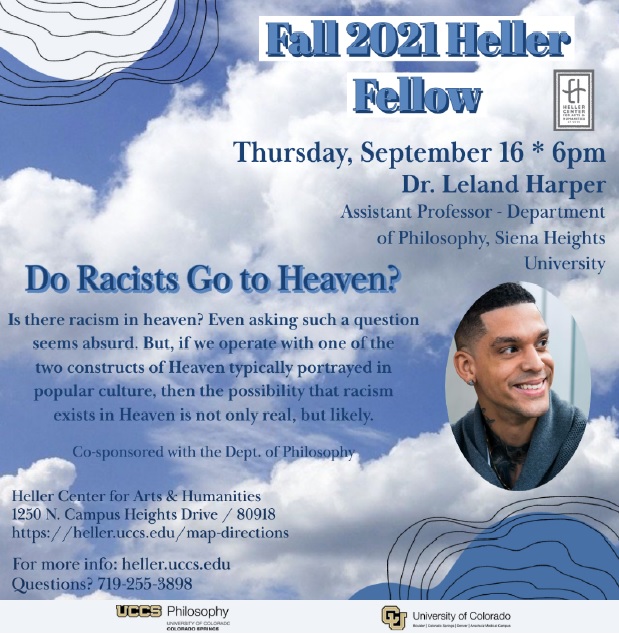 Do Racists go to Heaven?
Leland Harper
Assistant Professor, Dept. of Philosophy
Siena Height University
Co-Sponsored with Dept. Philosophy
Fall 2021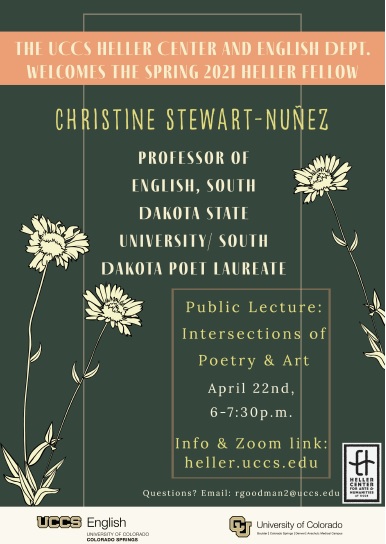 Public Lecture: Intersections of Poetry & Art
Christine Stewart-Nuñez
Professor of English
South Dakota State University / South Dakota Poet Laureate
Co-Sponsored with Dept. of English
Spring 2021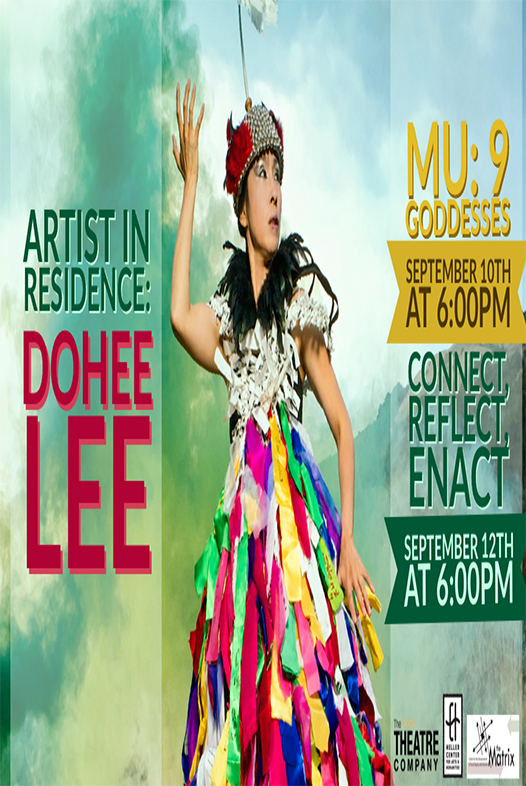 Artist In Residence
Dohee Lee
Dance Artist
Dept. of Visual & Performing Arts (Dance)
Fall 2020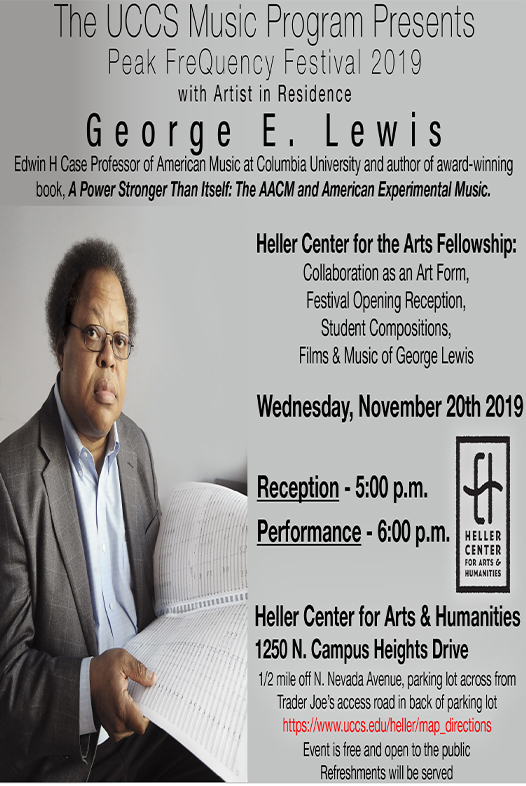 A Power Stronger Than Itself: The AACM and American Experimental Music
George Lewis
Professor
Colombia
Co- Sponsor with Dept. of Visual & Performing Arts (Music)
Fall 2019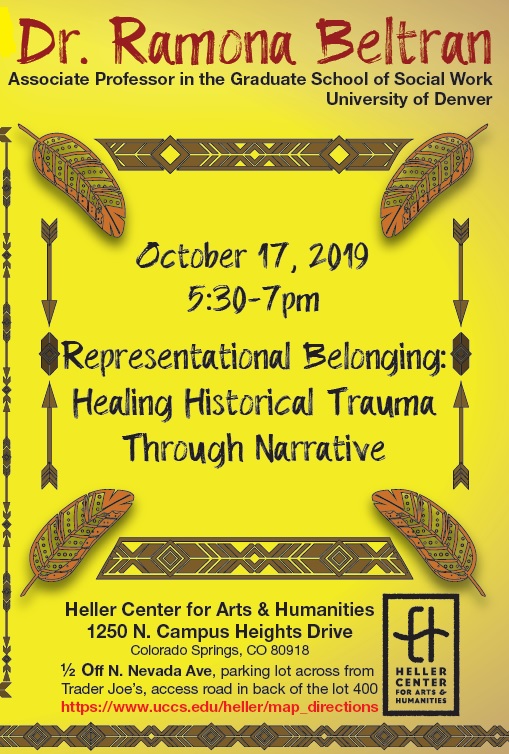 Representational Belonging: Healing Historical Trauma Through Narrative
Ramona Beltran
Associate Professor in the Graduate School of Social Work
University of Denver
Co- Sponsored with the Kraemer Family Library
Fall 2019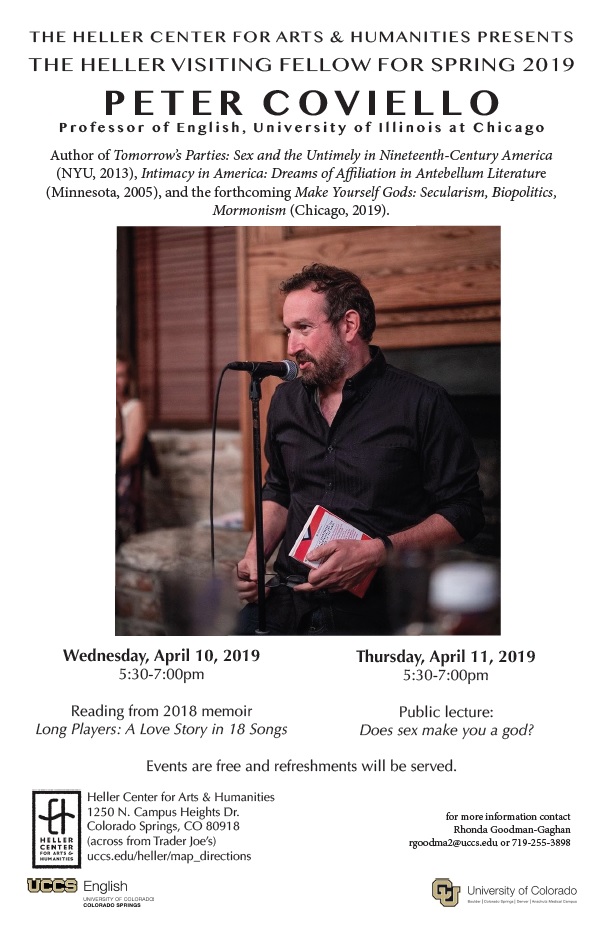 Peter Coviello
Peter Coviello
Professor
University of Illinois at Chicago
Co-sponsored with the Dept. of English
Spring 2019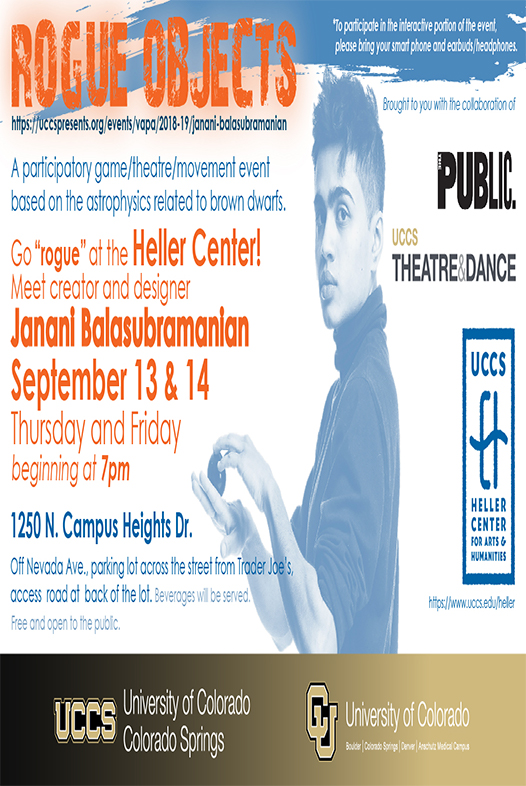 Rogue Objects
Janani Balasubramanian
Performance Artist
The Public (New York City)
Co-sponsored with the Dept. of Visual & Performing Arts (Theatre)
Fall 2018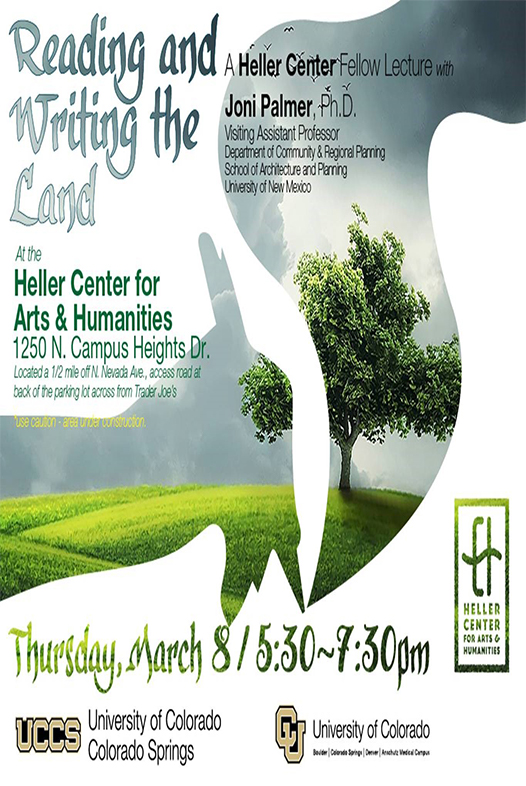 Reading and Writing the Land
Joni Palmer
Assistant Professor
University of New Mexico
Co-sponsored with Dept. of Geography & Environmental Studies
Spring 2018