The Heller Center for Arts & Humanities and the UCCS Department of English is delighted to welcome the Spring 2021 Heller Center Fellow: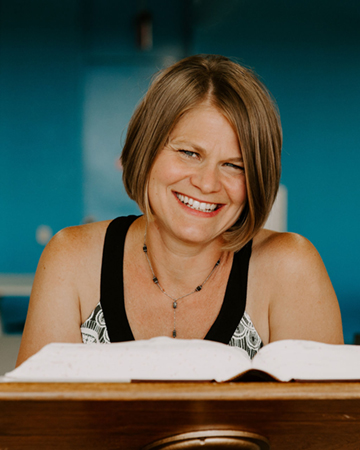 Christine Stewart-Nuñez, South Dakota's poet laureate, is the author of seven books of poetry, most recently Untrussed (University of New Mexico Press 2016) and Bluewords Greening (Terrapin Books 2016), winner of the 2018 Whirling Prize. She has written several award-winning essays and co-edited two books that feature both literary and scholarly contributions on their subject matter: Scholars and Poets Talk About Queens (Palgrave MacMillan 2015) and Action, Influence, Voice: Contemporary South Dakota Women (South Dakota Agricultural Heritage Museum 2015).
In 2019, the South Dakota Council of Teachers of English named her Author of the Year. As a professor at South Dakota State University, Christine's teaching, creative work, and service has earned several awards, including the Dr. April Brooks Woman of Distinction Award (2020), the Outstanding Experiential Learning Educator (2019), and the F. O. Butler Award (2017). She served on the board of directors for the South Dakota State Poetry Society from 2012-2018 and edited its poetry magazine, Pasque Petals, from 2014-2018. She is the founder of the Women Poets Collective, a regional group focused on advancing their writing through peer critique and support. In 2020, Stewart-Nuñez released the poetry anthology she edited, South Dakota in Poems, and looks forward to The Poet & The Architect, forthcoming from Terrapin Books in 2021. Find out more at christinestewartnunez.com
Writer's Statement: On Ekphrasis
"My engagement with visual arts began during my Ph.D. studies through the invitation of one my professors to participate in an ekphrastic reading at the Sheldon Art Museum in Lincoln, Nebraska. The experience sparked a long-lasting (and sometimes awkward) relationship to writing poetry inspired by art. I say awkward because I haven't learned about art in academic contexts, rather by my own study; that's left significant gaps. However, I've found that writing from art very generative. I concur with Barbara K. Fischer's framing of the practice: "Ekphrasis is an interpretive occasion and a critical tool—a mode that involves description, enumeration, analysis, comparison, citation, questioning, critique, assessment, summation, and judgment … a form of critical mediation." Art offers me imagery, tension, processes, texture—gateways into new subject matter. But I also find, just as Terry Blackhawk does, that art can provide me with "an imaginative substratum through which difficult personal subjects can surface." My current ekphrastic projects engage with architectural work and printmaking."
Tuesday, April 20 / Noon-1:30pm
Writing Poetry Inspired by Art
In this workshop, Dr. Stewart teaches participants about the history of ekphrasis, familiarizes them with current approaches to it, reads examples, and provides prompts for guided engagement with visual art. Local examples will be featured!
REGISTRATION REQUIRED! SPACE LIMITED TO 10 STUDENTS! CONTACT: Catherine Grandorff - cgrandor@uccs.edu
Location – Heller Center Greenhouse 1250 N. Campus Heights Drive / Colorado Springs 80918
Directions: https://heller.uccs.edu/map-directions
April 22, 2021 / 6pm – 7:30pm
Intersections of Poetry and Art
In this reading/talk, Dr. Christine Stewart discusses her approach to writing poems inspired by visual art and illustrates her process with examples.
Zoom link: https://uccs-edu.zoom.us/j/99200065979
Meeting ID: 992 0006 5979
Questions? Contact: Rhonda Goodman-Gaghan – rgoodma2@uccs.edu